I have had a busy few days.
Last weekend Fluffy had her babies, 8 of them!!
No wonder she looked liked she swallowed a watermelon.
Sadly, 2 of them didn't make it, but the other 6 seems to be doing well.
On Friday night, we went over to our friends house for a bonfire & Smores
and we had the best evening!
I have to admit, I had a little bit of garden envy when I saw Liz's HUGE flourishing
garden, but it just made me want to work on mine more.
I also enjoyed her chicken coop- I love her design!
The walls are made with old wooden screened panels (painted green)
and attached together to make a cool rustic farmhouse style chicken enclosure.
I loved hanging out with all her friendly chickens too!
The kids had a blast playing together, the moms loved the female company,
and even the men seemed to be enjoying themselves!
Over the weekend we had gorgeous weather,
so we spent some more time prepping the garden.
Matt tilled it again, and the kids helped me plan the rows and start planting.
We got the squashes & zucchini's planted so far.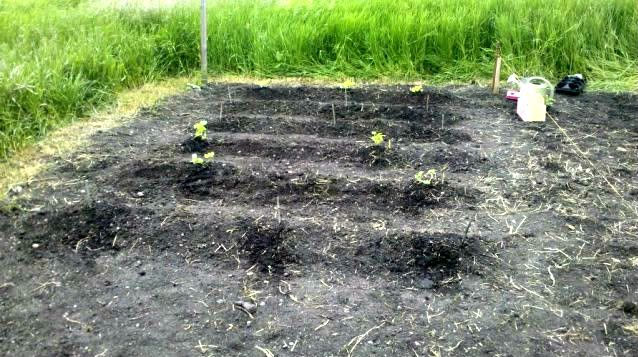 Since I moved to North Dakota, I have heard repeatedly how great our soil is.
It is thick and black and rich.
I am counting on this extra help from the soil,
as I have never been known to have a green thumb...
The desire is there, but the know-how is lacking!
I will be so proud of myself if my first attempt at a vegetable garden is successful
and we can actually eat & enjoy the fruits of our labor.
(pun intended)
6 rows down, 18 to go...